Botox Course Chief Director: Dr. Debraj Shome
Director, The Esthetic Clinics, which are a chain of Dermatology & Cosmetic Surgery Centers, in multiple cities, in India
President, International Academy Of Facial Cosmetic Surgery (IAFCS)
More than 15 years experience of Facial Aesthetics, Including 10000+ Botox & Filler Injections
Multiple Global Patents for Inventions, including Invention of the QR 678 Hair Growth Factor Injection Therapy
Celebrity Author of Multiple Best Selling Books
American Board Certified in Facial Cosmetic Surgery – The First & The Only Diplomate from Asia
Fellow of the American Academy of Cosmetic Surgery – One of the Very Few From Asia
Fellow of The American College of Surgeons
International Member, American Society of Ophthalmic Plastic & Reconstructive Surgery
Key Opinion Leader for Asia Pacific Region for Allergan (for over 15 years), Merz & Galderma
Principal Investigator of Multiple Trials, with Top Global Aesthetic Companies
More than 1500+ Lectures and 60+ peer reviewed International Papers, on Aesthetics, Globally
Office Bearer – Association of Medical Consultants (AMC), Indian Society of Facial Plastic & Reconstructive Surgery (ISFPRS), Indian Chapter of American College of Surgeons (ACS), The Oculoplastics Association of India
Multiple Awards, Including Best Plastic Surgeon in India, Best Cosmetic Surgeon in India, Best Facial Plastic Surgeon in India, Indian of The Year 2017, etc

Botox Program: The Highlights
onvenient Online Format – Learn at your convenience, while still obtaining the benefits of live interaction with Dr. Shome. Those who take the online course can also visit us later for a hands on elements & take a hands on course later or Come for a physical observership at The Esthetic Clinics.
Learn From Trusted Educators – Dr. Shome is an acclaimed international educator, inventor and creator of treatment protocols (Awarded multiple Global Patents for his inventions in Aesthetics), and IAFCS is a highly respected organization, with more than 300+ surgeons & doctors trained already.
Proven Marketing Techniques – Learn Dr. Shome's proven patient care potocols & marketing techniques for Botox and Dermal Fillers, with clearly implementable steps.
Certification – IAFCS will provide you with a completion certificate, and our Dermal Fillers certification is highly respected.
Continued Access –  You have access to the online recorded programs in perpetuity. We also form online Whatsapp groups and Dr. Shome & other instructors make themselves available to students after your Dermal Fillers training for 3 months – You can post live cases & seek advise on how to treat them. This continued hand holding allows you and others to learn continually & develop confidence in your capabilities. Students are also entitled to free hands-on Dermal Fillers instruction while injecting at any live IAFCS program, as well as discounts on attending the entire hands on programs.
The Live/Online/Interactive Format For Botox Training
It's possible to get dermal fillers training and certification without ever leaving your office, practice or home. Our unique video based teaching process allows you to view the classes from any sort of computer, smart phone or tablet. And you don't need extensive computer knowledge to get involved. The process is as easy as this: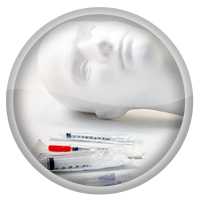 Signing up for our dermal fillers course online & Making Payment Online.
Clicking on a link in the email we send to you.
Watching the classes on your device.
Answering the test at the end of the videos.
Receive certification within 1 week of your classes completion & test completion.
Getting enrolled on the Whatsapp groups for query addressal, for the next 3 months.
The entire process is very simple.

Course Syllabus for All-Inclusive Esthetic Injectable Fillers
In this dynamic and comprehensive Dermal Fillers training program, learn how to properly and successfully use injectable dermal fillers, including Juvederm Voluma, Juvederm Ultra Plus XC, Juvederm Volift, Juvederm Volbella, Belotero Volume, Belotero Intense and Restylane. With these remarkable products, you can transform faces for your patients, while increasing the viability and income of your cosmetic practice. This Dermal Fillers course teaches you how to get the best results for every kind of patient. In addition, you'll learn how to use dermal fillers in conjunction with Botox, Threads & Other Non surgical Devices like Ulthera, for the best possible results on the cheekbones, chin, nose and mouth.
Included in the course, intended for medical professionals who offer or want to offer cosmetic services, are details on the most important clinical aspects of dermal filler use not available on YouTube or on the product inserts.
This online Dermal Fillers class includes topics such as facial landmarks, tissue manipulation sites for prevention of material migration, best injection sites and useful tips that virtually guarantee successful outcomes for all kinds of patients. The courses are divided into three elements, based on your level of proficiency:
Basic Course -This teaches anatomy of the Human Face & concepts of beauty in different races. It also teaches the Basic components of different fillers & where to use which filler
Intermediate Course – This discusses basic injection techniques in the cheek bones, lips and under eye areas
Advanced Course – Complex injection sites like forehead, temples, piriform fossa, brows, Chin, Jaw, etc. Combination Therapy with Threads, Botox & Other non surgical devices like Ulthera. Basic marketing on Google and Social included, to kickstart your practice.
Our instructor team has more than 50+ combined years of experience training people like you on dermal fillers and Botox. IAFCS has graduated hundreds of medical professionals.
The IAFCS online filler training course is designed to offer everything a participant should know about these in-demand aesthetic treatments. That begins with an understanding of how to differentiate between the different brands of dermal fillers to know which products are best for your patients. It continues right through to practicing injection techniques until you establish complete comfort. During the program you are always supervised and instructed, even when you start evaluating & injecting your own patients online.
The Dermal Filler products covered include Restylane, Juvederm Voluma and others. Information is presented about how to select these products to deal with lines and loss of tissue in the follow areas:

nasolabial folds
lips
submalar hollow
cheeks
jowels
and more.
After completing the Dermal Fillers course, all students will know how to:
Evaluate patients & see what can make someone better looking
Individualize your treatment, as no one size fits all
pre-treat patients with anesthesia to prevent distortion of tissue and inflammation that can make assessment difficult
visualize what a finished job will look like before doing any injections on a patient
plan how adding fillers to certain parts of the face will impact it
make patients look natural rather than fake or treated
make lips look normal and natural and match the face and smile
avoid mistakes that can lead to cheeks or lips that look bad
choose the right products for the very best results
improve the skeletal profile with the right injections in cheeks and chins
correct mistakes made before they become a problem for you and your client
use dermal fillers that contain lidocaine for best results
combine Botox with dermal fillers for good results, especially on gummy smiles and nasolabial folds
make chins, cheekbones and lips look in better proportion to the face as a whole
and more.
Also included in the Dermal Fillers training program is a study of specific protocols for each of the injections zones and other practical tips designed to help ensure postoperative compliance and the right aftercare for every patient. The practical and intensive sessions are designed to provide everything necessary so that students can then demonstrate their mastery of the concepts in a hands-on manner. Dr. Shome and the other instructors make sure you finish the course feeling completely confident about performing dermal filler and Botox procedures on real patients. And IAFCS offers a unique discount that ensures you get one-on-one instruction later, if you feel that you need additional hands-on training to become totally proficient.
Injecting dermal fillers is one part art and one part science. Since you have a limited amount of product in each syringe and strategic placement of the product is essential to get the best correction, it's easy to see how both subjective and objective criteria must be considered. It is also crucial to set patient expectations and identify what sorts of issues can be corrected with dermal fillers and what cannot.
Isn't it time to join the thousands of doctors, nurses, dentists and other medical professionals globally who have integrated dermal fillers into their practices with great success? There's very little capital cost associated with the addition these lucrative and beneficial procedures to your practice yet they're in very high demand. When done right by a well-trained medical professional like you, patients can enjoy a high level of satisfaction. Get the instruction you need to give your patients what they want and what you need to expand and ensure the success of your practice.

Marketing: Get the New Patients You Need
Our dermal fillers training efficiently and affordably teaches you the practical information and techniques you need to reach the large and lucrative dermal filler market. Google indicates that there are tens of thousands of searches for the phrase "dermal fillers" each month. These often-frustrated searchers are people with a high level of disposable income who make ideal new patients for expanding your practice.
Social media is also an integral way to get new patients.
Many other ways to bring in new patients require a significant equipment investment up front, but for dermal fillers, the only investment is the low cost of the course and some basic materials. The first few treatments you perform will pay these small expenses. Even better, each dermal filler treatment takes just 5 to 10 minutes in most cases, giving you a profit-to-time ratio you simply can't get any other way.
Our dermal fillers training also includes valuable information on pointing out treatment value to patients, making it easy to gain their acceptance. With our training, you can turn skeptics who are concerned about pain, cost and other issues into fans who will serve as your practice's ambassadors, helping you bring in new patients. We even cover how much to charge your new patients, the right insurance codes for those who are covered and how to get your money from non-cash patients.

Endorsement
I had pleasure of attending a series of 3 courses conducted by Dr. Debraj Shome, with the support of Allergan Pharma on the subject of 'The use of botulinum toxin and fillers in facial aesthetics.' The courses were extremely useful. They covered practical anatomy evaluation, principles and theory of treatment and the injection techniques. The courses were very professional, superbly planned and executed. Dr. Debraj Shome added a lot of weight to the courses by his immense knowledge, practical experience and skills. I have gained a lot from being a part of these courses.
I would like to compliment Dr. Debraj Shome for his passion for excellence and teaching in this field. PDF
Dr. Ashok Kumar Grover
Chairman – Department of Ophthalmology
Sir Ganga Ram Hospital
& Vision Eye Centres
---
As an ophthalmologist facial aesthetics always excited me. To increase my horizon and arena of practice I wanted to venture into the field of facial aesthetics. My search for an ideal training in this field stopped at the training course on facial aesthetics conducted by "The Esthetic Clinics".
The training program is congruous to the expectations of general ophthalmologists and oculoplastic surgeons wanting a plunge in this field. It is customised, affordable, adequate yet comprehensive exposure in the field of facial aesthetics. The whole course is well poised with theoretical lectures and practical hands on exposure on dermal fillers and botox.
Mentor of the course Dr. Debraj Shome is a very lucid and eloquent teacher and gives so much encouragement to his students. He is a pleasant personality, affable, proficient and makes the whole training course very interactive, buoyant and exciting.
I would highly endorse this training course by "The Esthetic Clinics" to all my ophthalmologists colleagues seeking an insight or training in facial aesthetics.
Dr. Lobsang Tsetsim
Senier Ophthalmologist
Itanagar, Arunachal Pradesh, India
---
Dr. Debraj Shome was one of the National Chief faculty at the Fellowship in Rhinoplasty and Facial Plastic surgery, organised in September 2019, at Akash Hospital, Indore, India.
Dr. Shome's lectures on facial plastic surgery, facial aesthetics and hands on training for botox and dermal fillers were a great learning experience for me. It was extremely comprehensive.
I appreciated his holistic approach to facial rejuvenation and also how the basic principles behind each procedure were stressed on and very beautifully explained.
Dr. Pragati Shubha
MBBS, DNB (ENT)
Indore.
---
I had the pleasure to attend the Facial Aesthetics course by Dr. Debraj Shome. The course on facial aesthetics is well structured and useful for all modern day clinicians. There were Doctors of various experiences. There were also Doctors of multiple specialties, including Plastic surgery, Dermatology, Maxillofacial surgery, Oculoplastic surgery and Ophthalmology.
This course not only gives you good theoretical knowledge about botox and fillers but also enough hands on experience to inculcate them in your practice. As facial aesthetics gathers momentum in Ophthalmology going, Dr Debraj Shome's course is indeed something anyone can safely count on. With his support I've been able to assess patients and independently perform procedures.
Dr. Smita Kapoor
Vision Eye Centre, New Delhi
---
Joining the Fellowship in Aesthetics course at International Academy of Facial Aesthetics has given me the confidence to embark on a new practice in cosmetic surgery. The training is comprehensive and delivered by experts in the field. Without the hands on training and constant support that I received form the mentors, my practice would not resemble what it does today. The course the latest non-surgical cosmetic surgery procedures along with an overview of surgical procedures like Blepharoplasty, Rhinoplasty etc. which enable me to make better and more effective treatment plans for my patients.  I can no perform a full-face lift, Botox, filler and thread lift with better understanding and confidence.
My Fellowship in Aesthetics Course has enabled me to do a full-face lift, Botox, Filler, Thread lift with greater confidence. This is all possible because of Dr Shome and the after course support that I have been received from the International Academy of Facial Aesthetics has been outstanding. The entire experience has been an eye opener in terms of understanding the nuances of facial anatomy at the muscular level, where to inject the filler and the parts of the anatomy to avoid.
I attended the Beautify with Botox one day class recently and the practical, comprehensive hands on training that was given to us and made me much more comfortable and confident. I can now go in my practice knowing that I can deal with anything that comes up myself. The high training standards emphasized on practical sessions with live patients made it a unique experience. I will definitely joining the Dermal Fillers class soon.
Dr. Shilpa Taneja Mittal
MBBS, DNB (ENT)
Indore.
---
The follow up support I received in my dermal fillers class was great. Dr Shome is a very good speaker and very thorough about everything he is teaching. I never thought learning facial anatomy would be as intense as it has been on this course. The course was delivered in a structural manner, which made it easy to follow. Hands on training is the only correct way to learn dermal fillers and I got plenty of opportunity to do so in this class. We were paired in small groups for hands on practice and given ample time to learn the anatomy in detail. This has greatly enhanced my confidence in aesthetic works.
Dr. Diwa lamichhane
Oculoplastic Surgeon
Nepal.
---
I attended the both Beautify with Botox and Beautify with dermal fillers course at the academy. I found them to be very informative. Everything was A+ on the course, the environment, the professionalism of the models as well as instructors and the quality of the course. I would recommend this course to everybody who is looking to start their own practice in facial aesthetics. The teaching method, delivery and course content are beyond approach. We were given plenty of time to practice the learned skills. I am looking forward to talking more classes with you. Thank you
Dr. Trapti Sharma Bhalke
Ophthalmic Surgeon
Khargone
---
I joined the Beautify with Botox course with a sceptical mind. I had attended courses from other agencies but was not very happy with the after course support. This course at the International Academy of Facial Cosmetic Surgery has been an eye opener in many ways. Not only I have learned the intricacies of Botox injectable too, I have also received a complete guide on how to set up my own practice. Thanks to the incredible training, I am now confident of using Botox.  I am now armed with knowledge, skills and the confidence of starting a new journey in my career. Thank you.
I would recommend the beautify with fillers course to all professionals of all skill levels who are looking to enhance their skills. Thanks to the hands on experience that I got in this class, I have built the confidence to start doing dermal fillers with ease. The appreciation that I am getting from my patients and peers is the testimonial enough for the great experience that I had in the class at IAFCS
Dr. Syeda Maimuna A Khan
MBBS, MD – General Medicine
Hyderabad, India
---
I attended the non surgical facial rejuvenation  training programme ,devised by Dr Debraj Shome , in the session 2018-2019 as a trainee  .I am an oculoplasty surgeon from Lucknow and was keen to learn about the techniques of facial injections like botulinum toxin and synthetic fillers . In the very first session of this training my experience was nothing short of an eye opener . In the three sessions spread over 6 months I injected all areas of the face  under the expert guidance of  Dr Debraj himself . At the end of three sessions I was  very confident in injecting all areas of the face including lips which is one of the most sensitive and tricky sites .Dr Debraj was very patient and meticulous while training us , so even as one  got  a free hand  in  injectables  , there was no compromise on the precision of techniques and post injection care .I will always remain thankful for Dr Debraj's mentorship .I would want to recommend this training to every doctor  who want to scale up his /her practice of facial rejuvenation .
Regards
Dr Nidhi Pandey
Consultant and head
Orbit and oculoplasty services
Indira Gandhi Eye Hospital
Lucknow and Gurugram
MBBS, MD – General Medicine
Hyderabad, India
---
The aesthetics programme started by Dr Shome and Dr Mohita for ophthalmologists is a great initiative. It is very comprehensive and anybody with even no background in this field can learn it. Dr Shome makes it so simple. The hands on part really gives confidence and one is prepared for the next patient.
Then comes the most difficult part, getting hold of patients. Here also there is an ongoing support system. And there is a platform to discuss each patient u get and solutions for all the patient to patient problems. I would recommend it for all those wishing to spread their wings beyond cataract
Dr Dr. Arpana Bansal
Ophthalmologist
Delhi, India
---
I am Dr Deepa Nair,practicing oculoplasty at Faridabad. I ws fortunate enough to attend the hands on training program on facial aesthetics (Botox and fillers) at Tirupati eye centre,Noida.i must say it such an empowering and confidence building program. Dr Debraj Shome oozes positivity and motivation ,he made sure each and every participant received personal attention and advice regarding the procedures..both theoritical and practical.
He was appreciative of our skills and critical of our mistakes which made the course intersting and fulfilling.At the end of the course, i can proudly say that I can confidently counsel and perform these aesthetic procedures without hesitation.the fact that Dr Debraj is ever available to clear the doubts and questions even after the procedure makes this course stand apart.
Dr Mohita and her team at Tirupati eye centre also had put in the best of efforts to organise and conduct these courses.Kudos to the entire team at the hospital .Thank you Dr Debraj for making it happen.i think all ophthalmologists shud undergo a training in facial aesthetics once ..and Dr Debraj is the best person who can teach you.
---
' Who & What .. made me overcome the hitch and make a switch… to Aesthetics'
I was quite content with my never ending Cataracts, pterygium's , allergies ,etc..etc… But the day I turned 40 , I wanted something more challenging, more meaningful, especially after I came across Dr. Debraj and the workshops conducted by The Esthetic Clinics.
Considering the huge World wide demand of aesthetics, these workshops conducted in association with Allergan, are designed for practicing ophthalmologists and serve as a primer for starting the facial aesthetics practice in ophthalmology setups.
It also dwells upon the challenges faced while starting as well as the solutions for these challenges including marketing and set up.The aim of this course is to help add in a new career which would be a new armamentarium in the ophthalmology clinics & help incorporating facial aesthetics in your practice.
Dr. Shivani Sule,
Consultant Ophthalmologist,
Nagpur, India
---
The Advanced Masterclass in Facial Contouring covered all surgical and non-surgical aspects of facial cosmetic surgery. Dr Shome is a very skilled instructor. His delivery skills are very concise. He demonstrated many advanced techniques to us in a safe and patient centred method. I am very impressed by the detailed course manuals that have proved to be priceless for me. I can anytime look into them for information and it is like being back in the class.
---
Not only I was privileged to learn the best Botox and dermal filler injection techniques the course also focuses on anatomy  and safety of use of injectable in facial cosmetic surgery. The teaching techniques of the institute explain the fundamentals very clearly. I am now confident in identifying the areas that need to be worked on and the key vasculature. I learnt how to get the best cosmetic results, how to tailor my treatments to the patient's requirement and various other aspects of a facial cosmetic surgery such as how to manage complications. I wish I had an option to do this course when I first started using fillers in this capacity.
---
The course on Botox has redefined my understanding facial anatomy, in particular the knowledge where and how to inject and where not to inject with best results and minimal chemical use. I have been using Botox in my practice before but never had an experience of actually marking it out on the face. I know now how to understand the danger signs better, which has been very helpful in making my practice, better. Attending this course was indeed an ideal opportunity for me.
---
This was my first time attending the training as a patient model. The whole experience was very positive. I received full information about the treatment beforehand and was able to freely discuss my expectations and opinions. My words were taken in to account. The trainers were very professional and knowledgeable. They treated me very well and was considerate towards me. I am very happy with the outcome and will be definitely going back for more treatment. 
---
"This course was informative, interactive and fun. Yvonne was a great instructor and very knowledgeable. I really enjoyed the hands on portion and the confidence to start using Botox in my practice."

FAQ's
Dermal Fillers FAQ's